Asset Management
The term Asset Management stands for the systematic and coordinated planning, management and maintenance of an organization's assets. The main aim is to ensure the required performance and availability of assets while minimizing the costs and expenses and managing the risks at the same time.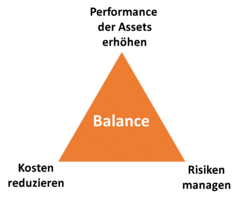 The Asset Management System defines the organizational framework:
Stakeholder requirements
Technical and legal specifications
Corporate objectives, strategies and plans
Processes, resources and responsibilities
Risk management
Information management
The ISO 55000 standard introduced by the International Organization for Standardization (ISO) in 2014 provides users with an established set of rules.
The standard is divided into three documents:
ISO 55000 Overview, principles and terms
ISO 55001 Requirements for Asset Management Systems
ISO 55002 Guidelines for the implementation of Asset Management Systems
See also: International Organization for Standardization